So there I was at the store the other evening, casually going about my business, when the announcer on the radio mentioned she would be taking her son to The Wiggles concert in Toronto this summer.
(source)
Be still my heart!!! I just about started jumping up and down!!
See, I have a genuine deep and abiding affection for this wildly popular children's quartet from Down Under. The Wiggles draw flack from some quarters; I think they're great with their catchy songs and energetic personalities.  (The running gag of Jeff snoring never fails to make me laugh!).
For years it's been an Aunti Tradition to bring CDs from the Waterloo Library to Little E and Baby C.
Ever since Little E was BABY E, the Wiggles have been a constant in the CD rotations. We all love the Wiggles!! When I arrive with a new batch of CDs, Little E is quick to investigate how many and which Wiggles discs Aunti found this week; Baby C is convinced that Dada is one of the group (she'll point to the cover art and repeat, "Dada! Dada!").
So, you can bet that when I got home the other night, I was quick to Google "Wiggles, Toronto, 2011." Sure enough, I found that they are touring this summer, and will stop at the Ricoh Coliseum in Toronto on July 23 & 24 for four shows.
My wheels started turning…how much fun would it be to take Little E to see The Wiggles??! (At <2 years of age, Baby C is just a little too young, still). What an amazing New Experience such an outing would be!
Unfortunately, my excitement dissolved into disappointment. With further investigation, I discovered that the least expensive tickets were $70-$80 each. And these seats were wayyyyy at the back of the stadium (see sections 113, 117 in the chart, below). The Wiggles would be mere ants on stage from that vantage point.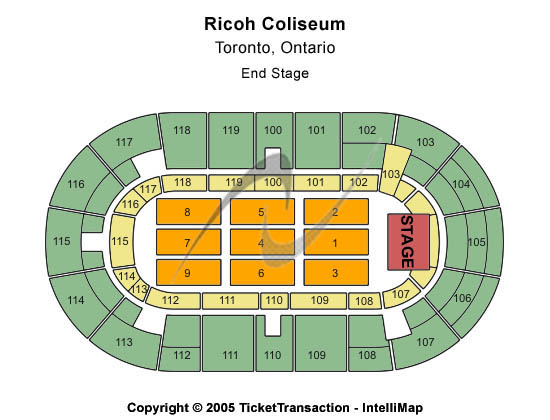 As much as I would love to see The Wiggles live treat Little E to a Wiggles concert, those ticket prices are just too extreme. It would be a really expensive afternoon: two tickets, transportation (Waterloo to Toronto, then transit to the Ricoh), a souvenir or two , snack treats….with regret, I officially shelved this concert idea.
Maybe when Little E and Baby C are a bit older we can reconsider and start a Wiggles Trust Fund today.
For now, we'll settle for another round of "Wake Up, Jeff" on the CD player while enjoying a Wiggles Dance Party in the living room.
What would you consider a fair price for tickets to a children's concert? I'd love to hear your thoughts!
Who was your favourite children's entertainer, growing up? The Brother and I loved Raffi! In fact, I still remember Auntie Anne taking both of us to a Raffi concert!
Favourite children's group today? I like the Funky Mamas and My Bedbugs!
◊ ◊ ◊ ◊ ◊
Today's Great Grocery Challenge Moment!
I ran out of cereal which is never a good thing.
Bulk Barn sometimes has some pretty good deals and fair prices, I thought to myself; plus, I know they have the best price on my favourite Almond Breeze.
Good call, Kiki!
The same sales associates have worked at my local Bulk Barn for years. On my way out, one of my favourites slid me gave me coupons, good til next Thursday:
So I can save 25% AGAIN on Almond Breeze and Nature's Path. You know what this means…
Yup, more stashes.